About Us
You're more likely to associate konjac with your grandmother's liquor cabinet than with food?
And Shirataki sounds more like a new martial art than noodles?
Don't worry, you're not the only one.
Let us state for the record: you won't find any alcoholic beverages or subscriptions for a new combat sport on this website. Instead, Shileo is all about an Asian root that is unlikely to win any beauty competitions, by the name of amorphophallus konjac or konjacfor short - the basis of all Shileo products.
Although relatively unknown in western countries, konjac has been used for centuries in South East Asia, both for food and as a remedy for Type 2 diabetes II or asthma. The reason for this is the fiber konjac glucomannan or glucomannan for short. Like no other plant-based fiber, konjac glucomannan can swell up to 200 times its original volume and accounts for many of the health benefits attributed to konjac. These benefits were even recently studied by the European Food Safety Authority (EFSA), which found that, when consumed in the correct quantity, konjac aids weight loss and helps maintain normal cholesterol levels. Please see the recommended intake (Further information).
But how does konjac get into the noodles?
Unfortunately, nobody knows when and where konjac noodles were discovered or by whom. What is certain, however, is that the flour of the konjac root is ideal for producing food, not just due to its health-enhancing properties but above all because of its attractive nutritional profile. All the same, it's not as easy as you might think to turn the practically calorie free yet extremely high fiber flour of the konjac root into pasta and rice. Its lack of starch compounds and enormous propensity to swell make producing noodles and rice an extremely slimy process. This is one reason why konjac pasta and rice are often sold in brine. However, they reminded Shileo founders Cyrille and Anja of old shoe leather rather than their favorite dishes :)
It took about a dozen konjac deliveries until the duo finally struck gold. Dried konjac pasta and rice that are not only delicious but also similar to standard noodles and rice. And the cherry on the cake: they hardly have any calories.
And how did the two founders get hooked on pasta?
Even before Shileo was a thing, the two Shileo founders Cyrille and Anja were close friends and had often worked together on joint projects. Finally reunited in Kuala Lumpur, they discovered konjac. And even though the duo had no plans to venture into the pasta business, they were blown away by its nutritional value and, most importantly, by the health benefits of the unusual nodles. Back in Germany, they decided to take the plunge - let's join forces and establish a startup! Well, it's been a runaway success so far :)
Introducing the Shileo founders Cyrille and Anja
Anja
Founder and managing director
launched Shileo, turning her passion for nutrition and startups into her career. Thanks to her extensive, specialized knowledge of food and further training in ayurveda medicine, she has the right answer to even the smallest customer inquiry.
Cyrille
Founder, managing director & CTO
Cyrille taught himself programming at the tender age of 12. Before founding Shileo, he was a developer on Berlin's startup scene. Today, as CTO, he is passionate about keeping the Shileo website and online shop up and running.
With their complementary expertise, the duo officially founded Shileo in September 2017. With products already available in the United Kingdom and France as well as Germany, they aim to make Shileo a truly European brand.
Shileo - developed for every body. We're delighted to guide you on your healthy eating journey
Our partners in crime…
Michela
Not just truly passionate about cooking, Michela has been a fan of keto and low-carb diets for years. At Shileo, she's responsible for finding creative, balanced recipes that don't compromise on taste. Along with Diana, she keeps our socia media channels up to date with new content.
Diana
Diana is also committed to low-carbs. She's been exploring all aspects of the topic since 2014 and has made a name for herself as a blogger: schwarzgrueneszebra. A qualified graphic designer, she provides valuable support in product development and marketing. If you follow us on social media, you're sure to have seen some of Diana's skilfully staged postings.
Moritz
Moritz is the helping hand behind the scenes. With his expertise as an event technician, more specifically in lighting technology, he makes sure the spotlight is on our products and recipes in photos and videos. A passionate amateur chef, he regularly comes up with new recipes.
(Chris-) Tina
If you've ever sent us an email, you're sure to have met Tina, who keeps track of all our messages. Whether you want to change your subscription, report an incorrect delivery address or find out more about a product, Tina always knows how to help. She also assists the two managing directors. On her day off, she loves spending time with her daughters, who are quite happy to become little Shileo helpers in a pinch, like during the pandemic
Bianca
Our numbers queen Bianca juggles Shileo's figures day in, day out, making the piles in her in-tray magically disappear in no time at all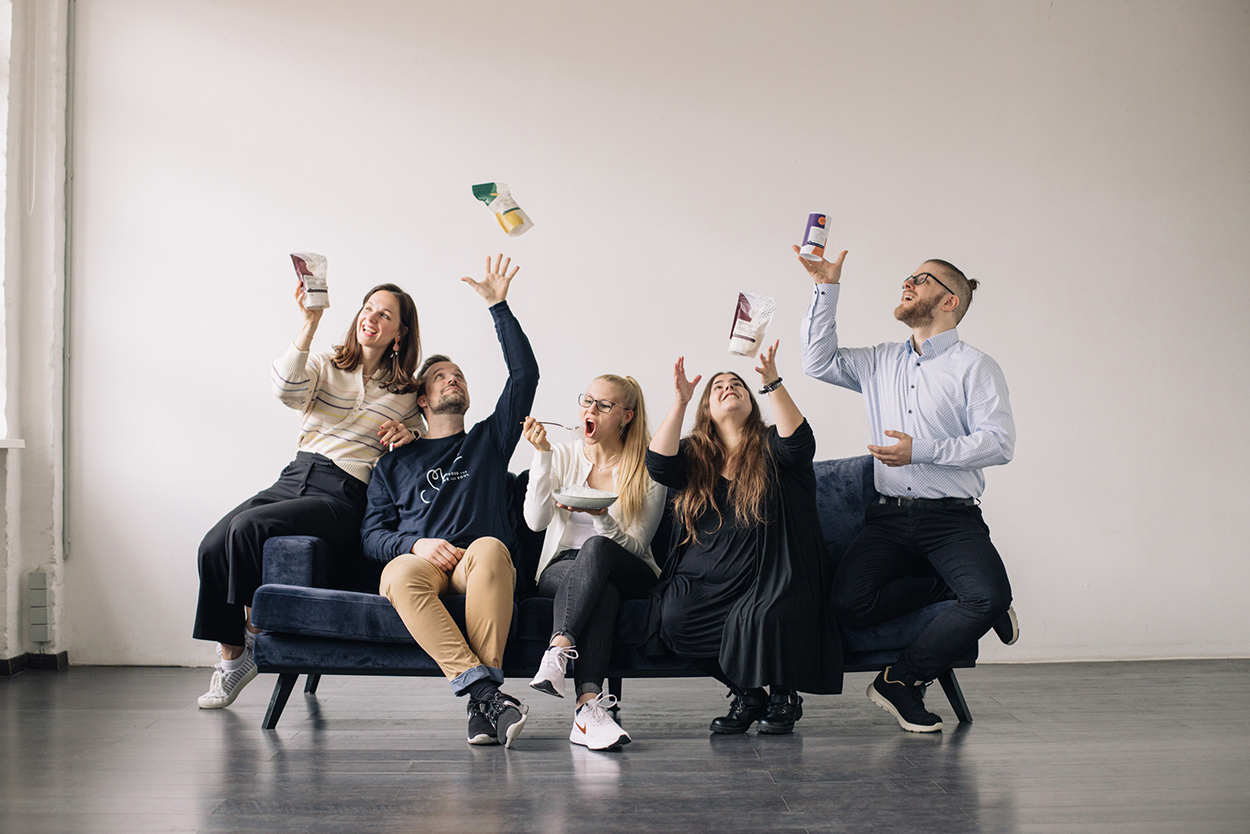 The Shileo team (from left to right): Anja, Cyrille, Michela, Diana and Moritz
Oh, by the way:
Healthy, low-calorie konjac noodles have been the order of the day in Japan for years. Incidentally, they are known there as shirataki, or white waterfall. By now, you've probably realized where the first part of our company's name came from. The second part symbolizes not just the power and strength of the team behind the scenes, it's also Anja's star sign..
Feedback
If you'd like to share your feedback, suggestions or weight-loss journey with us, drop us a line at hello@shileo.com. We'd love to hear from you!